Crete is an unbelievable landscape cut by canyons and gorges for millions of years. The topography of the island is unique in that these rifts in the bedrock of the island form create hundreds of individual pockets of natural bounty. The island is even called the "land of gorges" since more than 400 canyons carve up paradise in breathtaking ways.
Naturally, Crete gorges are ever-popular with trekking enthusiasts. However, while most outsiders are familiar with places like Samaria Gorge in the White Mountains of the west of Crete, few travelers know of the hundreds of other gorges of interest. Here are a few other treks hikers and canyoners will certainly marvel at.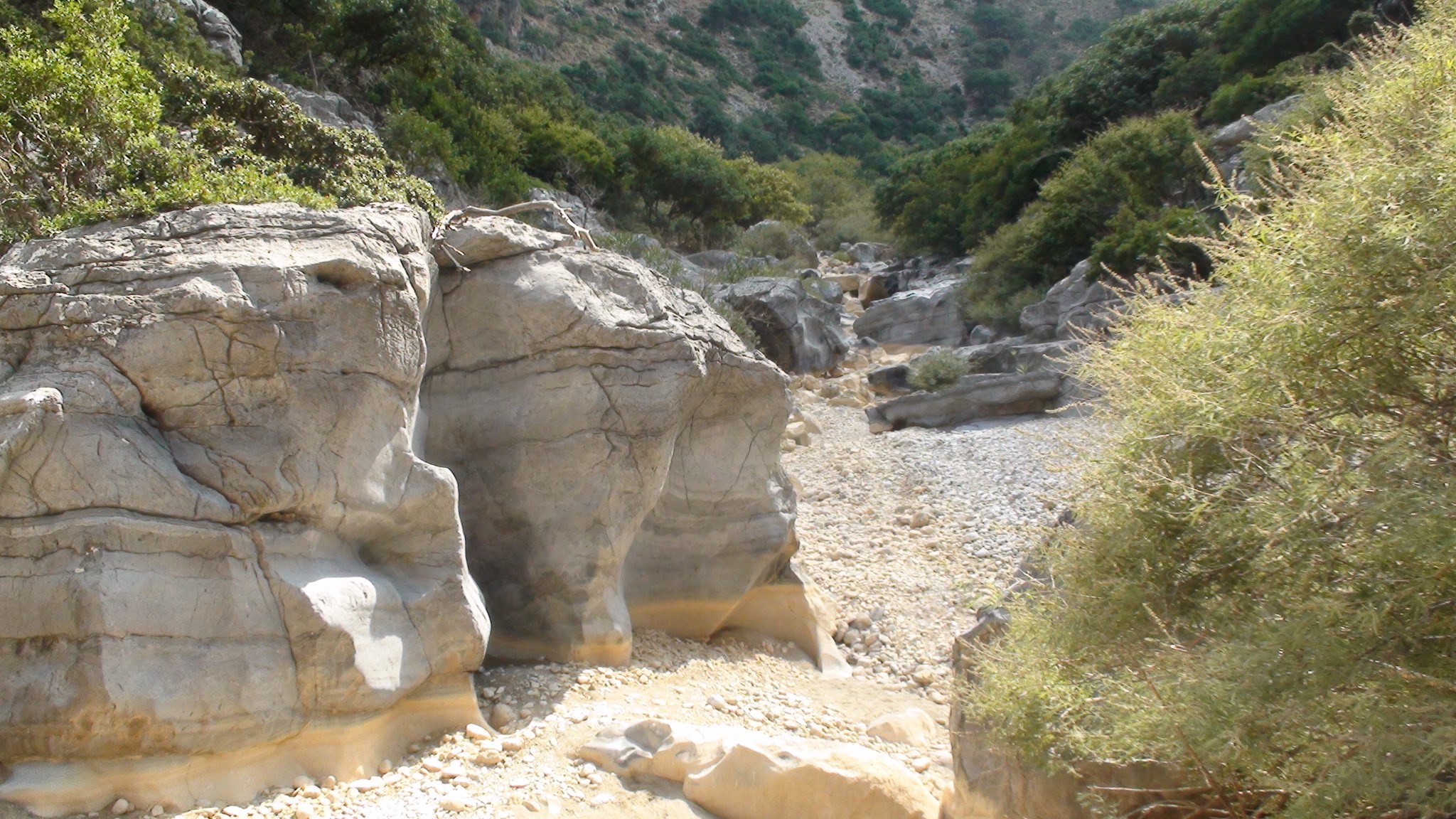 Aposelemis Canyon
If you are in the mood for a lot of climbing and scurrying across rocks, Aposelemis Canyon is the perfect hike for you. Created by herders and shepherds long ago, the gorge is still used daily. This is one of Crete#S most breathtakingly beautiful areas, a place no one can forget.
In winter the 8-10 kilometer Aposelemis Gorge becomes a small river which makes it a beautiful green area with many native plants. Halfway through the gorge, there's a cave and an area where giant vultures live. you will reach a cave. Around here the vultures live: the wings of these vultures sometimes have a wingspan of 2 meters.
Be sure to wear good shoes or boots, and be prepared to get wet if it's rained. As we suggested, there's a lot of climbing and descending over loose stones, but overall the hike is only of moderate difficulty.
The canyon is not far from the capital of Crete in Heraklion. Hikers can expect amazing old trees, verticle walls up to 200 meters high, lush green vegetation, and even some recreational areas and wooden benches along the way.
Richtis Gorge
One of Crete's most beautiful gorges, Richtis is a year-round trek of moderate difficulty. The gorge is about 12 kilometers long but hikers can choose to shorten it to as little as 6 if they so desire. The gorge descends about 350-480 meters down to sea level, but be advised that the longer hike is through some pretty serious wilderness, so provision up for that.
The trek through Richtis Gorge takes you through some of the lushest landscapes and scenery of East Crete. The mountain is actually above your head. Platan, oleander, and sage are numerous and amazing here, and the smells of fresh herbs inundate the whole gorge.
Halfway through the gorge, you'll come across an amazing waterfall with a 30-meter drop into a crystal pool. After this point, the trek leads down to a beautiful secluded beach on the Cretan Sea.
The walking time for Richtis Gorge is about 3-5 hours. We recommend very good walking shoes and carrying a backpack, rope, and water. Tours and walks through the gorge are led by Zorba's Island, and other experts on Crete. You can also find out more via the Municipality of Sitia site here.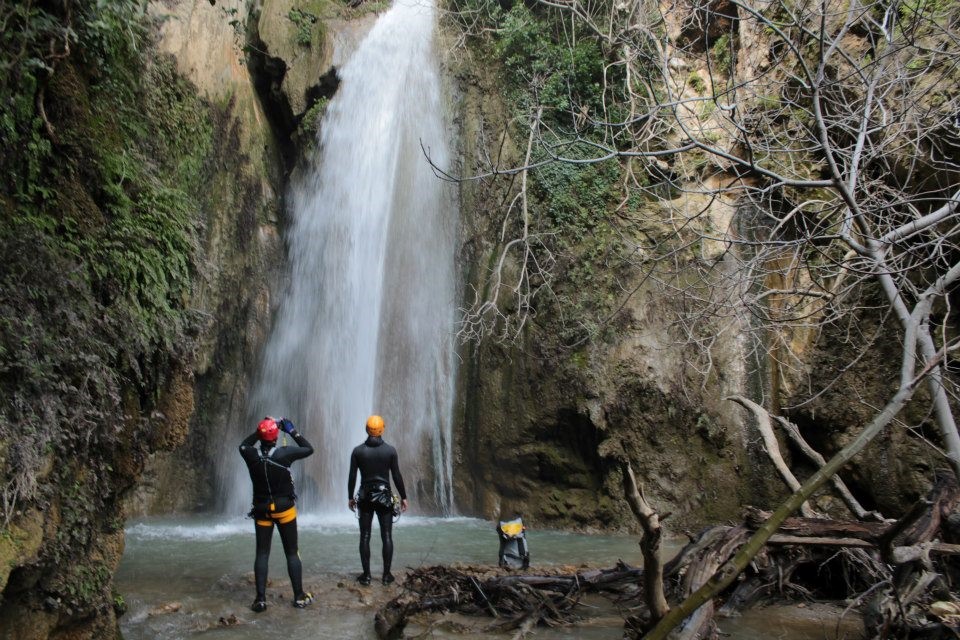 Orino Gorge
Another moderate to difficult hike is through the lesser-known Orino Gorge. This 11.6-kilometer hike covers a back trail located near Orino and features a series of wonderful waterfalls. The gorge is located between Orino village and the coastal village, Koutsouras and has a rise of about 480 meters.
This rugged canyon of Orino follows the path of one of Crete's most powerful downhill rivers. Hikers are advised to carry canyoning equipment for this one. However difficult hikers may find the trek though, the last three waterfalls at Peristerionas are among the most beautiful anywhere in Greece.
The river flows down toward the perfect Koutsouras Beach after passing through the gorge (also known as the canyon of Red Butterflies). The gorge starts near the exit of Orino Gorge and ends at Koutsouras after about 3-4 hours of walking.
Imbros Gorge
The 6.6 kilometer Imbros Gorge trail is a bit of a hidden gem good for all skill levels. The point-to-point trail located near Ibros, is good for hiking, trail running, nature trips, or that special picnic you've thought about. The roughly 700-meter ascending trail is okay for beginners, but best for those with some experience. The easiest way to traverse this stretch of picturesque Crete is by starting from the highest point and then arranging for transport at the lowest point.
Imbros is amazing for a couple of reasons, but most hikers are impressed by the narrowest point of the hike where the walls narrow to only 1.6 meters and reach up 300 meters. The gorge is also famous for being a kind of pilgrimage for Australians and New Zealanders who had relatives who served on Crete during World War II. Allied troops in Crete and walked through the gorge in May 1941 in order to escape the Nazi invaders in pursuit. You can take the Nature Tour of Imbros Gorge for about €35 euro from Fabulous Crete if you'd rather not go it alone.
Imbros Gorge is located in province Sfakia and is the third most visited among Crete gorges. The trek is ideal for families with children, especially hiking top to bottom as we suggested. The 11 km hike will take you about 2-3 hours.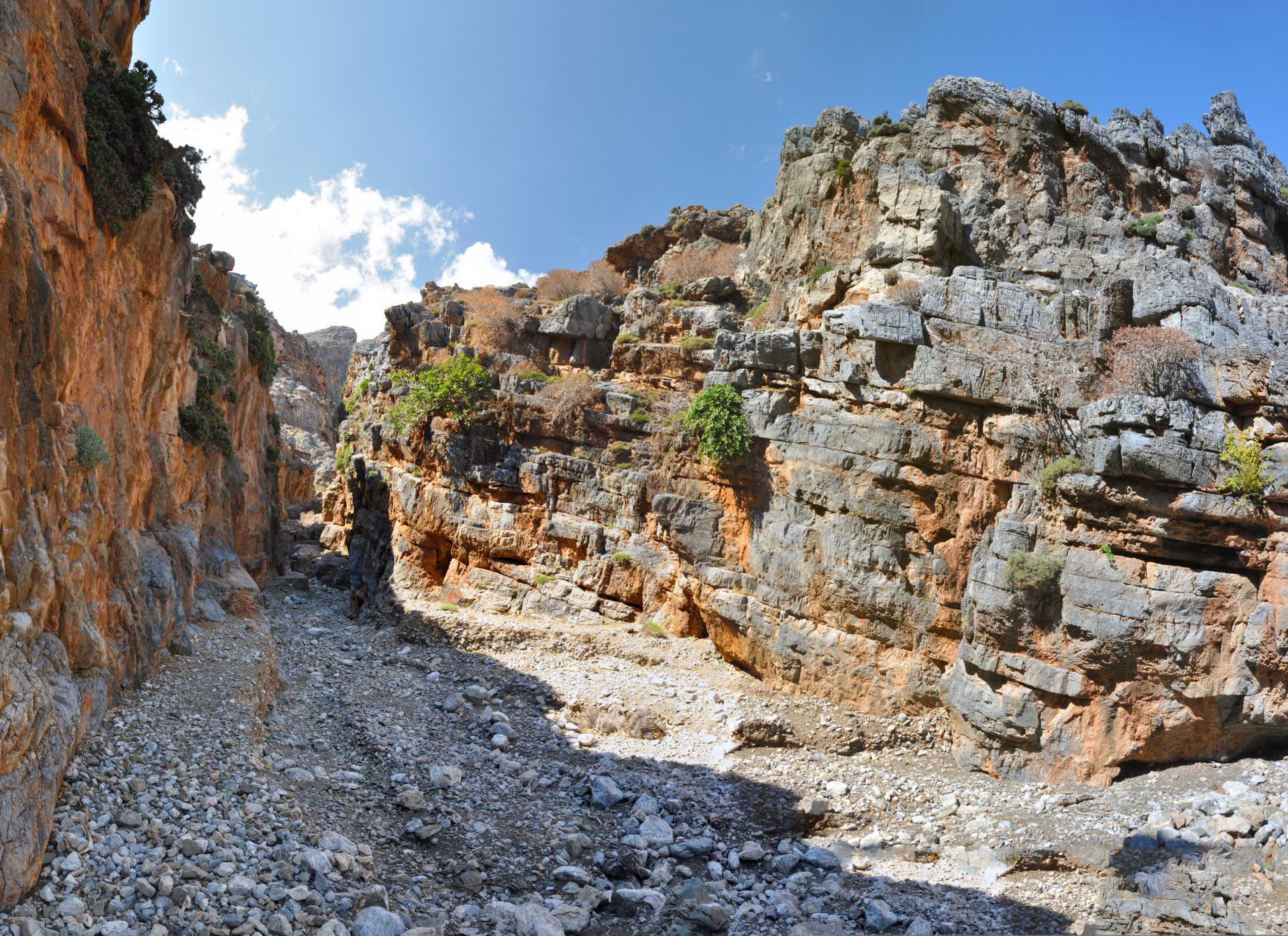 Kakoperatos Canyon
This difficult adventure is located about 10 kilometers south of Ahendrias village, on the eastern side of the Asterousia Mountains, Kakoperatos begins at Apomoni and ends on beautiful Skiadaki Beach on the Libyan Sea. Formed by a riverbed, part of the canyon can only be traversed with technical equipment since there are 15 meter high waterfalls in the canyon.
Hikers can navigate the Kakoperatos Canyon without equipment by skirting the falls from the sides to walk down the gorge. Be advised, however, that the deep river Megalos cuts the canyon with several imposing waterfalls and downs, so the canyon becomes unfit for hiking. In Greek, Kakoperatos means "hard to pass," which this trail certainly is.