One of Crete's most idyllic and picturesque villages, Archanes sits in a lush basin some 380 meters [1280 ft] above sea level. Only 14 kilometers outside Crete's capital in Heraklion, Archanes is subdivided into two parts by the ancient Kaeratos River, which now flows today as a stream northward toward the Minoan Palace of Knossos some 7 kilometers distant. Archanes, like many Cretan villages, has significant archaeological sites dating to the early Minoan times and onward. And the greater Archanes – Asterousia Municipality has so much more. Here is a brief reference guide to the village with a preview of the region.
Archanes: The Model Village
Selected by the European Union as a model for residential development, Archanes has a rich history dating from late Neolithic sites to the glory of Minoan habitation, and through the Roman and Byzantine eras. The village has actually won two awards. The village won as the 2nd best-restored village in Europe, and the top award for long term development prospects. You will find a wealth of museum exhibits, folk art, and amazing architectural buildings and churches dotting the Archanes village landscape.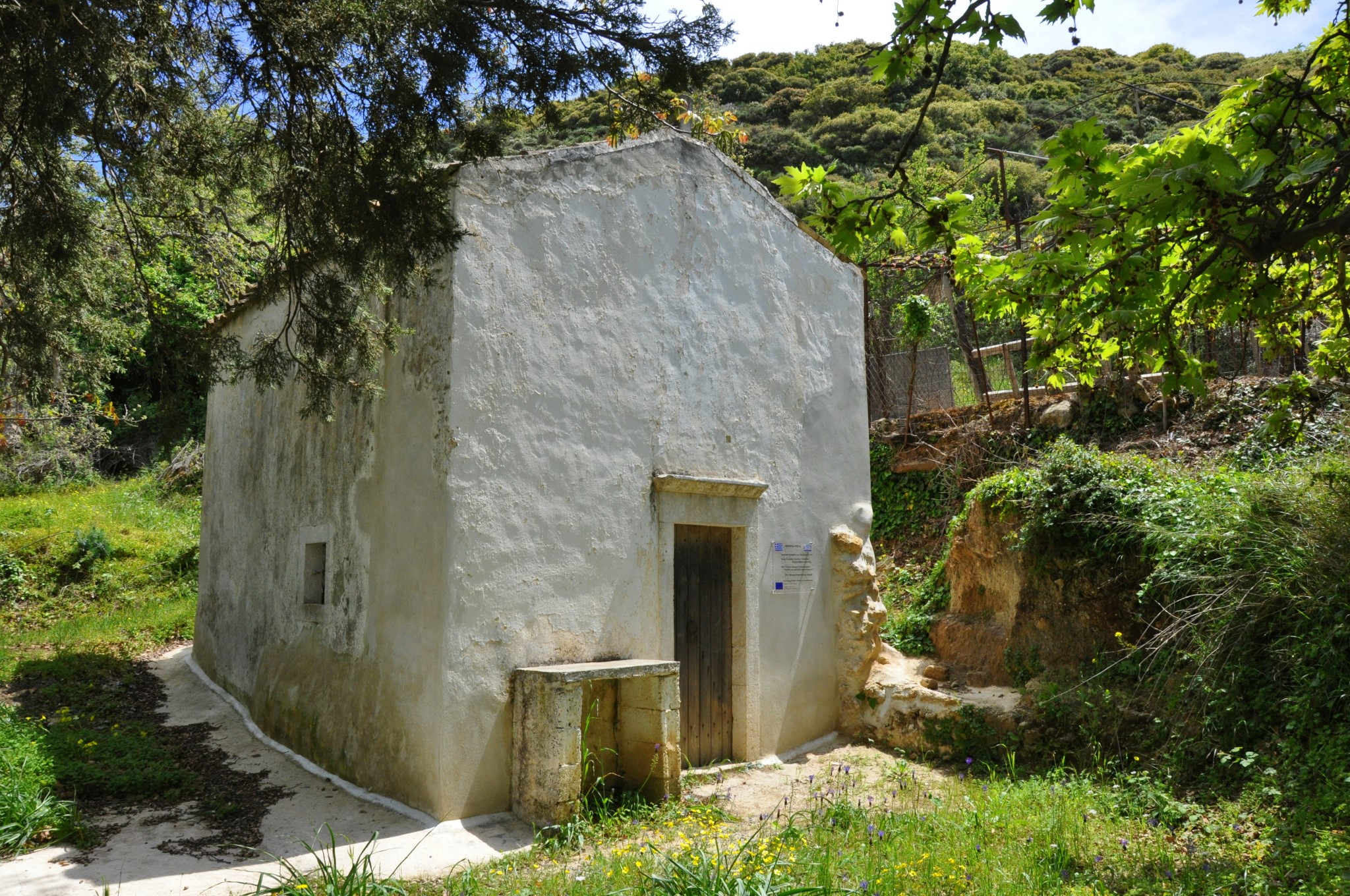 For visitors and locals, the wonderful restaurants and taverns at the central square are a huge attraction. Here in Archanes, you can sample what the world-famous Cretan cuisine is all about. And the wine? Well, this region is famous the world over for the oldest winemaking operation ever discovered. Be sure to visit the numerous fine winemaking facilities and olive oil producers in the region. If by chance you visit in summer, perhaps you will want to help harvest the grapes during the annual celebration of the Arhanes Farmer Festival. If you are not on Crete during the festival, maybe you can catch the Koures (shearing) festival, or the Archanes Music Academy Seminars from June. But if you miss these, don't worry, there's always a celebration on Crete.
A Respite for Minoan Kings
Archanes has many significant archaeological sites to explore. In fact, the village is thought to have been the site where Knossos kings spent summers. There is one in the center of the village, Tourkoyeitonia, in central Archanes a fenced-in excavation. Another, at Troullos where Sir Artur Evans excavated. One at Anemospilia and Fourni (a Minoan cemetery). At Vathypetro on the way to Houdetsi, there are the remains of a Minoan mansion dating back to 1600-1500 BC. At Anemospilia archaeologists discovered the remains of a tripartite shrine. And at Sakerlaraki a fabulous extended graveyard dates back to prehistoric times of 2500-12500 BC.
A lot of very significant finds of the Minoan era surround the broader Archanes area. Visitors will find the excellent Archaeological Museum used to display all these finds from the town and the sites surrounding it a must-see attraction, as well. For those inclined to see it all, a walk-up sacred Mount Juktas will reveal the site of one of the most important peak sanctuaries in the Minoan world.
On Archanes – Asterousia Naturing
Archanes is also famous as a stop-start point for adventurers intent on trekking nature. Walking up Mt. Juktas to see where the god Zeus was buried is just for starters. The famous E4 runs right through Silamiano Gorge, where oaks and sycamores shade the trail before the clime of Fourni Hill toward the ancient necropolis. There are actually 10 or more hiking trails nearby to Archanes. Most of these either follow ancient paths or goat trails that interconnected hamlets throughout history. Some are well preserved and marked, while others are a bit more of an adventure in map reading or GPS use. At the beginning of each one, there is a sign with information on how they should be hiked. There are also 5 mountain biking routes for cyclers. The Instagram below of amazing Abbas Gorge courtesy Stavros Deverakis, it opens a small window into the majestic landscape of the wild Asterousia Mountains.
All around the greater Archanes-Asterousia area, you'll find amazing nature discoveries from geological and geographical amazement to herbal medicinal magic. The Lake of Damania is one, created when a small dam was built to retain water from the tributary of Anapodaris River. There are numerous caves to explore too, including Stravomytis' cave, Neraidospilios in Astrakiano Gorge, and Chosto Nero high up on sacred Mt. Juktas, just to name a few. You'll also want to trek Knosano Gorge, Spiliotissa Gorge, Kounaviano Gorge, Abbas Gorge, and half a dozen other magnificent gorces in this part of Crete. Farther south toward the end of Asterousia there are some of Crete's most awe-inspiring beaches.
Visit Tsoutsouras to get away from the crowds. Swim off remote Maridaki at the end of imposing Achendrias Gorge, and be rejuvenated by its underground springs. Or, explore the huge and impressive cave at Voidomatis beach at the end of the river of the same name (Instagram above), where Crete's other-worldly magic lies just beneath the crystal blue waters of the Libyan Sea. There are dozens more, but you get the overall picture. Crete is an island 150 miles long that is 10,000 miles in length flattened out.
Places to Sleep and Eat
Whether you envision a luxurious Cretan holiday fit for Knossos kings, or a backpacking dream into this surreal countryside, Archanes has a multitude of offers in every category. Kalimera Archanes Village is rated "superb" across the board as a traditional Cretan accommodation with pampering luxury. Villa Mantilari is almost always booked solid, and for good reason. It may be the ultimate detox retreat on Crete. And this Airbnb "Fourni" studio is but one of a slew of ideal backpacker stays in the area.
Cretan food is the life's blood of this island. And restaurants like Archanes' Ροδακινιές (Peaches) excel at maintaining and presenting Cretan tradition. For lamb or moussaka, bakaliko is the top-rated spot by Restaurant Guru, though we have not tried their food yet. We can, however, certify Kritamon Restaurant for everything from coffee to their wine list. To Spitiko is another amazing taverna where perfect Cretan food joins perfect Cretan hospitality. But for the real Cretan filoxenia deal, a pork chop made in an iron frying pan over a single burner was the best I ever had. At a shop with no sign, a grandma epitomized Cretan cuisine when she noticed a coffee drinker looked hungry. Short story, you cannot go wrong dining with true Cretans, they'll feed you the best they have, every time.
And Wine!
The vineyards of the PDO Archanes zone are amazing. Situated in between the PDO Peza zone and the PDO Dafnes zone, this winemaking region is home to one of the oldest winemaking traditions on Earth. With roots back into the Minoan era, the region is a wine tourism heaven even though it is not as developed a region as neighboring Peza. PDO Archanes wines are derived from the co-vinification of Kotsifali and Mandilaria, two indigenous grape varieties which are usually blended. The dry reds from here are superb. There are but three winemakers in this region, Sinadinakis Winery being the most famous.
Other Things to See and Do Around the Village
While you're in the Archanes area, there are unlimited things to see, do, and experience. By all means, every visitor should take time out to see the Koronekes Traditional Olive Oil Mill run by the family of the same name. Here you'll learn all about organic biodynamic farming and olive oil production, and how the best virgin oils on Earth are made. The Ecologiko Parko Giouchta is another "must-see" attraction for those who want stunning views and to stretch their legs (hard). Travelers will also find the "Cretan Thematic Park" a fascinating insight into the mysterious Minoan Civilization and Crete culture with two dance theatre performances being the highlight. There's plenty of shopping around the village, and little shops such as Idols Art offer truly amazing museum quality handmade works.
For more information about the Archanes area, we recommend that you visit the official website of the Archanes – Asterousia Municipality. You might also want to scan the pages of Cretan Beaches, for a wealth of information on the whole island.