The second total lunar eclipse of the moon this year occurs when the moon passes completely beneath Earth's shadow this Saturday, December 10, 2011. The eclipse will be visible in Asia, Australia, and will rise and set over Europe and North America. A noteworthy event especially for people in the United States, as the next opportunity to view a total lunar eclipse from the U.S. is April 15, 2014.
The eclipse will turn the moon surface red today, and will also feature another rare event, a rare "senelion," when people can see both the sun and the eclipsed moon at the same time, due to a phenomenon called atmospheric refraction.
From beginning to end, the eclipse will last from 11:33 UT (6:33 a.m. EST, 3:33 a.m. PST) to 17:30 UT (12:30 p.m. EST, 9:30 a.m. PST). Totality, the time when Earth's shadow completely covers the moon, will last 51 minutes. The eclipse will be seen in totality from Alaska, Hawaii, northwestern Canada, Australia, New Zealand, and central and eastern Asia. The eastern zones of the United States and Canada will only see the initial penumbral stages before moonset, or nothing at all.
NASA's Lunar Reconnaissance Orbiter (LRO) will record how quickly targeted areas on the moon's day side cool off during the eclipse.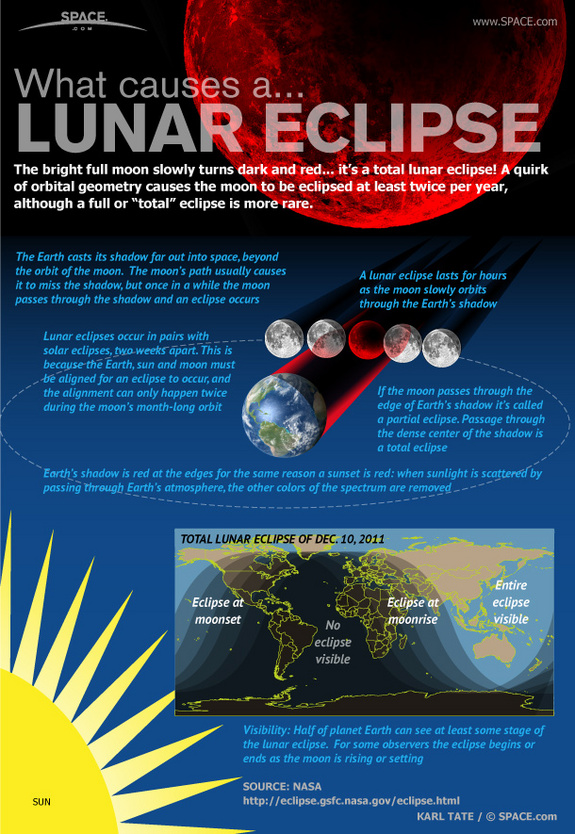 Source: SPACE.com: All about our solar system, outer space and exploration