The largest of the Greek islands, Crete is a captivating paradise possessed of thousands of years of culture and history. The island's rugged landscape, it's mythical heritage, and its pristine beaches are just part of the draw of this world-famous touristic destination. Exquisite cuisine, impeccable Mediterranean climate, and especially the island's warm residents, make Crete an unforgettable destination. And for the business traveler, Cretan hospitality knows no bounds. Here's a selection of the best business stays on the island. Be forewarned though, the toughest thing about business on Crete is getting down to it. Wait, you'll see.
Megaron Hotel Heraklion
Built back in 1925, the GDM Megaron Hotel is more than a landmark. Situated overlooking Heraklion's famous Venetian Harbor, the edifice is a standout by any description. Dating from the time of citron trade, the history of this magnificent hotel is reason enough for business travelers to want to stay here. Other reasons include the uncompromising Cretan hospitality, the exquisite rooms and suites, the small meeting rooms, and the superb "5th" rooftop restaurant. Also, the hotel's No. 1 rating on TripAdvisor cannot be overlooked.
Megaron is not the cheapest hotel in Heraklion, but if you're looking for an iconic business stay, this is the place to be. Rooms are about €140 per night in high season from the website.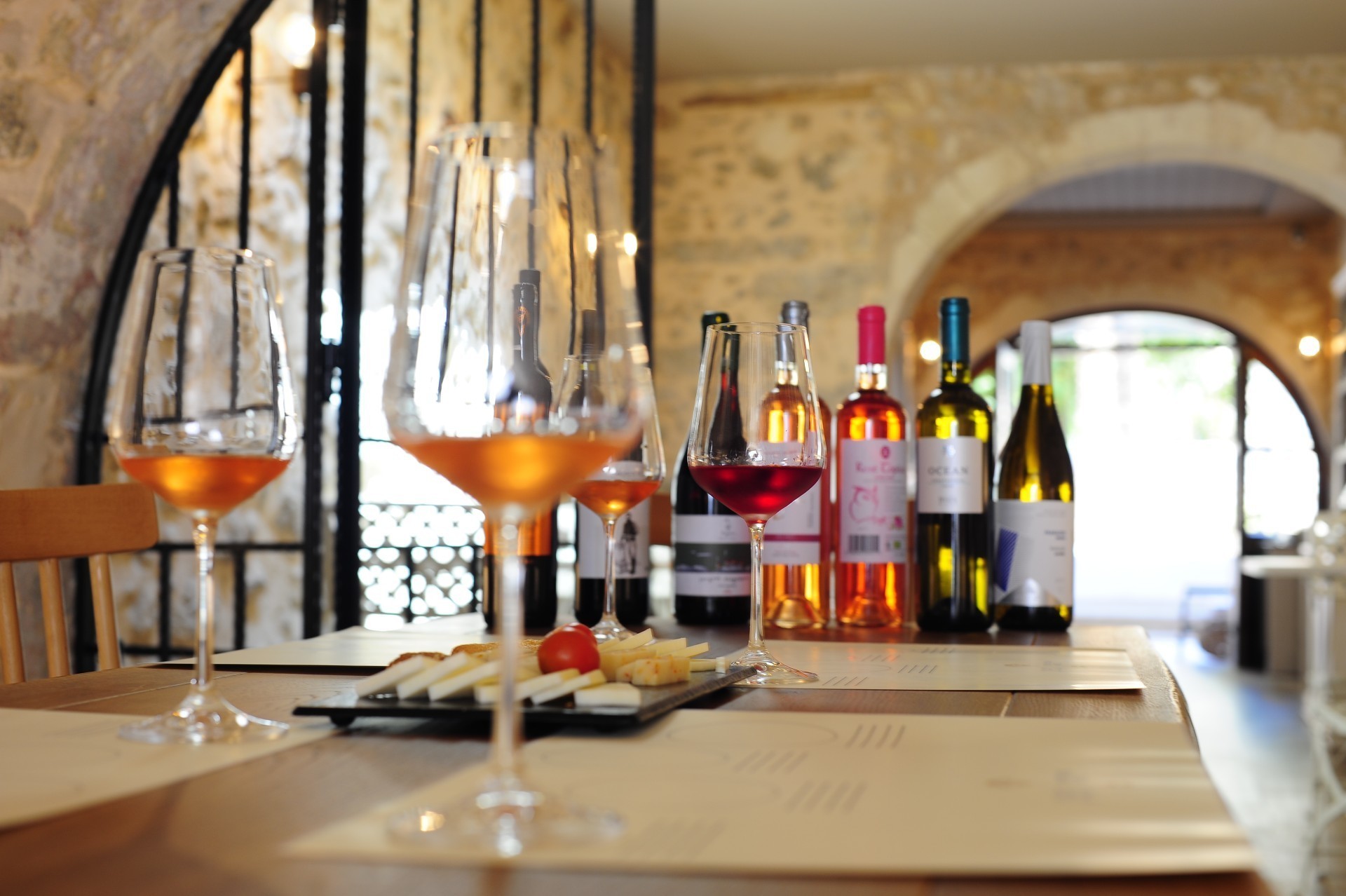 Pepi Boutique Hotel Rethymno
In Rethymno town, there is only one problem for business clients. There is not so much space for gigantic meetings and conference rooms. The old Venetian masterpiece is just so NOT Miami Beach. However, this does bode well for business people who enjoy the feeling of exclusivity and closeness to everything that matters. With this in mind, Pepi Boutique Hotel is a kind of quintessential personalized stay.
Built within a charming old Venetian building, Pepi Boutique sits right in the middle of Old Town Rethymno convenient to the Town Hall (precisely 446.97 meters), all the shops and beaches, museums, countless tavernas and cafes, and anything that matters basically. Guests will enjoy the Cretan gastronomy, the hotel's amazing wine cellar, and maybe even one of the many wine tasting events. The rooms and suites are immaculate, the pool, the lush garden surrounds, and typical Cretan philoxenia only add to an otherwise memorable little hotel. Rates start at about €112 per night in high season, but there is a minimum stay of 3 nights.
Sitia Beach Hotel
Recommending Sitia Beach Hotel for business people headed to the East of Crete is a bit of a no-brainer. Situated right next to the town's sandy beach and only 300 meters from the city center, this is Sitia's only five-star resort hotel. The resort is the perfect starting point for excursions to wonderful destinations nearby and for that all-important meetup your on the island for in the first place. Stunning gardens, perfect food, and a basket full of hospitality awards make this majestic resort a natural choice too. Enjoy an award-winning Greek breakfast, then one of three pools, or the beach. There's a brilliant and well-equipped business center too. Rates start at €130 per night in high season.
Casa Delfino Chania
In Chania, business travelers face the same "problem" as Rethymno poses. These old Venetian towns just don't have a lot of space for bigger hotel operations. And who would want a high-rise spoiling Crete's most picturesque and famous waterfront? Luckily, smaller charming operations like Casa Delfino Boutique Hotel make Old Chania Town all the more appealing. This family heirloom is a true Cretan gem with that unique combination of elegance and down-home friendliness the island is famous for. You can expect a good bit of choice of accommodations too, from a lush apartment to the unbelievable presidential suite of the hotel.
There's a spa, a wonderful roof garden, and even a separate villa in case your business interests involve entertaining a billionaire. The main hotel is situated smack in the center of everything. The famous Venetian Harbor is steps away, as are countless shops, restaurants, and all the important landmarks. This is truly an experience every traveler to Chania should seize. Rates start at about €195 euros for a standard room in high season.
Elounda Bay Palace Lassithi
Agios Nikolaos is where all the business is done in this part of the island, but Elounda is where the most luxurious and business-friendly hotels are. Elounda Bay Palace not only offers amazing Mirabello Bay with a twist of prestige, but the hotel also has stunning spaces for meetings and events. Winner of Europe's Leading Seafront Resort at the 2019 World Travel Awards, Elounda Bay Palace lives up to its reputation.
Expect spellbinding dining and spa experiences to die for. There are 8 dining venues, and a spa and wellbeing pampering only Espace Vitalité Chenot can provide. Choose from smashing Splending Club Rooms or an apartment suite with its own heated pool overlooking the bay. Okay, maybe your company won't spring for the Platinum Club Grand Suite, it does go for just under €2200 euro per night. Rest easy though, the classic rooms for under €300 per day.
Ostria Resort & Spa
Located a couple of kilometers outside the city center of Ierapetra, Ostria Resort & Spa is one of the nicest resorts on Crete. The location makes it ideal for business people who need access to Southeastern Crete colleagues. The classy all-inclusive resort is convenient to Ierapetra and Makry Gialos, plus all agricultural operations in this part of the island. The resort boast of 7 dining experiences, 3 bars, a sports center, the aforementioned spa, shopping, stunning rooms, and meeting facilities that can accommodate as many as 2000 people.
You can have your morning meeting, ride a hoverboard over the crystal Libyan Sea, and be back for the afternoon meetings before heading out to join in organized group sports activities. Or, kick back at one of the unbelievable pool. Play tennis on championship courts, take up archery or practice on the football pitch. You get the picture, if this resort does not have it, you probably don't need it. General accommodations are already sold out in high season, but in Spring nights go for about €172 euros.
Oh, I almost forgot to mention Christmas at Ostria, an amazing experience we took part in a couple of years ago. If you are on Crete during the season, you MUST take the opportunity to stay during this one of a kind Cretan experience. Truly memorable.