On the northern coast of Crete, a few miles east of the capital of Heraklion archaeologists uncovered another unique tomb from the Late Minoan II-III era. The Sissi Archaeological Project is exploring the Kefali hill and a monumental site located near the modern seaside village of Sissi in east Crete. Their ongoing work may yet reveal more clues into the mysterious Minoan civilization that was so predominant throughout the Bronze Age.
An international team under the direction of Dr. Jan Driessen of the Belgian School at Athens, in collaboration with Greece's Lasithi Antiquities Ephorate, uncovered a structure destroyed by fire around 2500 B.C. that was part of a larger complex of buildings. The aerial image below shows the location and scope of this fantastic find.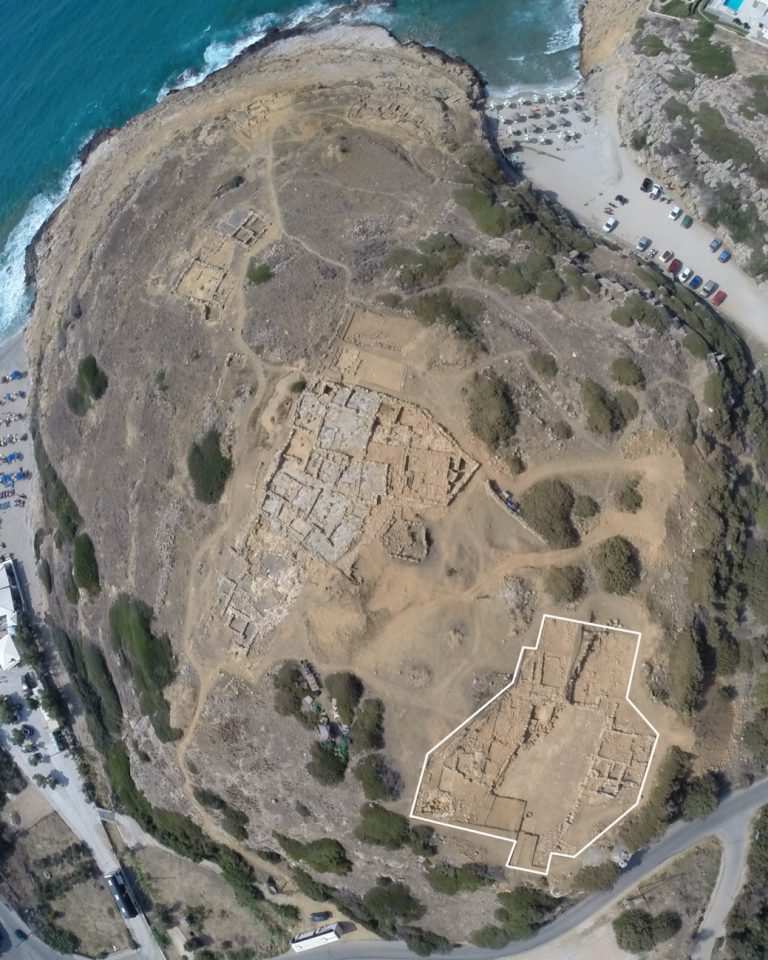 The remains of the original building were incorporated into the larger complex about 1700 B.C. Arranged around a central court measuring more than 100 feet long. The complex featured decorated plaster flooring and a terracotta drain. The video below narrated by Dr. Driessen tells us more about this amazing site.
Near the building, a box-shaped grave containing a woman's intact skeleton dating to the post-Minoan era was uncovered recently. The woman in the grave was buried with a copper mirror with an ivory handle, copper dress pins, and a necklace made up of 15 olive-shaped gold beads and smaller gold beads. According to the team, such finds are much more common for Knossos or Archanes beneath sacred Mt. Juktas.
The Sissi Archaeological Project is contributing significantly towards a better understanding of the Prepalatial and Protopalatial funerary practices of the Minoans.
The Sissi Archaeological Project (S.Ar.P.edon) is an initiative of the Université Catholique de Louvain and operates in Greece under the auspices of the Belgian School of Athens (EBSA).