This past weekend we had the pleasure of visiting one of our favorite Crete hangouts, the amazing Almyra Seaside Food and Cocktails, for their season opener. Located in unbelievable Agia Pelagia, Almyra is one of those places you will never forget. Here's a recap of yet another evening of hospitality magic right on one of Greece's most picturesque bays.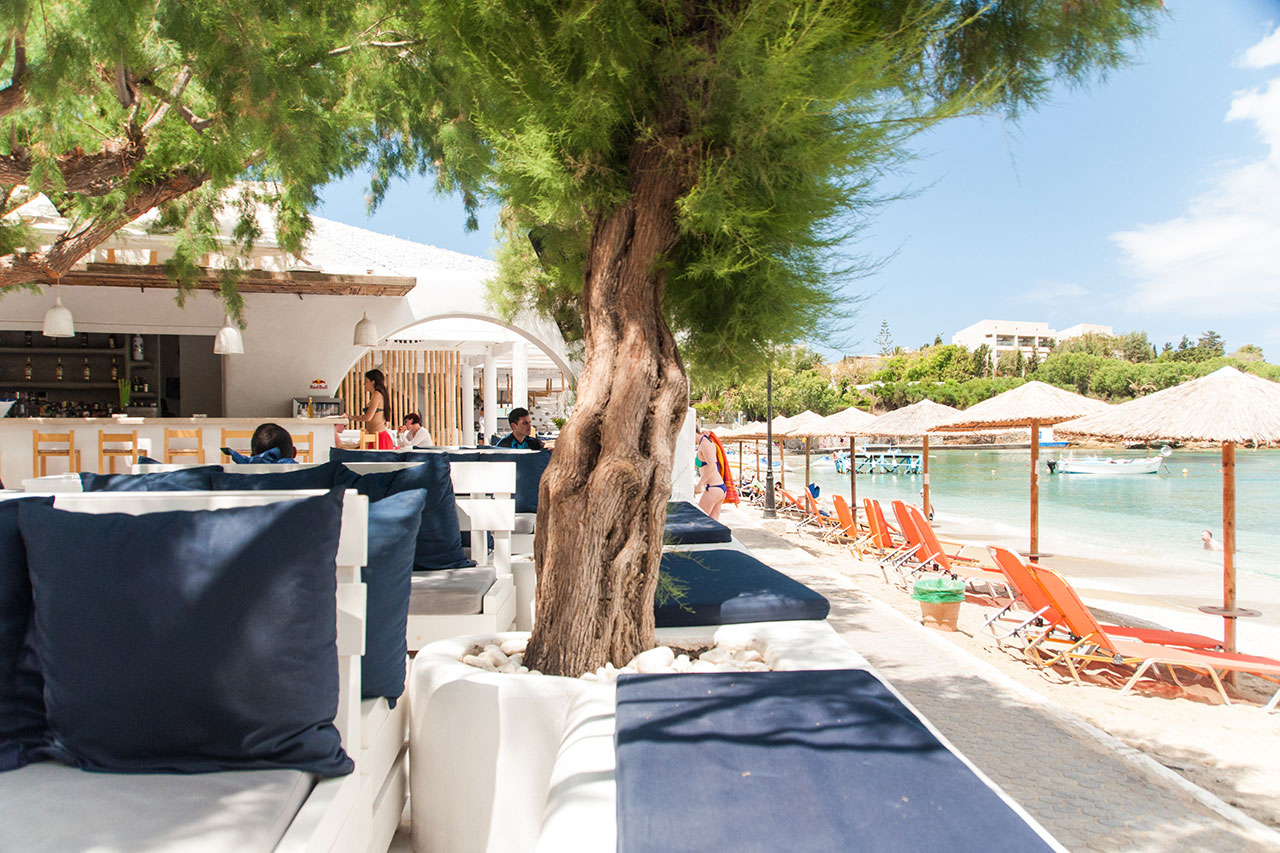 Winter on Crete was long this year, with unusual rainfall and a chill stretching into what is usually a warm spring in the eastern Mediterranean. Now that we've fully acclimated to the Cretan way of things, a chilly Cretan Sea in May seems more than odd. So, we've been anticipating the opening of our favorite beach hangout some weeks now. A twist of weather and fate led us to experience this fine restaurant's opening without the customary crowds that partied into the night in past seasons. Crete's heavy rainfall and winter storms were at fault when Almyra opened one day later than announced. So, Mihaela, me, and a friend shared the attention of the place's most valuable offering – the best staff in all of Greece.
Almyra, which we were introduced to a couple of years ago by our friend Minas Liapakis, is a place right out of a Bond movie. Liapakis, who's the owner of Eyewide Digital Marketing in Heraklion, began his career in hospitality at a nearby five-star resort in Agia Pelagia. I cannot imagine a more idyllic place to set the stage for a career, to be honest. If you've never visited the picturesque village, you've missed a serene and tranquil gem hidden in a perfect cove.
As for Almyra 2019, the gem of Food Pro Group of Restaurants, offers tourists and locals visiting Agia Pelagia a unique dining experience, as well as unforgettable parties and special events. For me, there's nothing like Almyra for letting the mind drift and everyday stress relief as you sit surrounded by expert hospitality with a perfect beach. Here you can dig your toes into the sand and sip your cocktails, or lounge on a comfortable sofa and cool off with an Eza Beer(s) or a bottle(s) of Manousakis rose all day long. At least, this is our preferred method.
For last weekend's opening event, we were met by our old friend Manos, who captains a truly professional and genuinely kind team. Manos, stressed a bit by last minute preparations, is one of those people who exudes kindness and intelligence – which is typical of all our friends there. He turned us over to a new lady, Theodora (sp), who watched us like a mother hawk all night long.
For starters, we managed to impress a friend from out of town with pastry wrapped Cretan feta cheese along with wild greens (Horta) from the local hills. Mihaela chose the Cretan Salad as her main, while our guest and I gorged ourselves on a fresh caught red snapper (1.2 kilos) filleted perfectly by Manos. Oh, and a mountain of potatoes with graviera cheese made for a perfect dinner with perfect people in a perfect place. The capper, a complimentary bottle (and several others) of Nostos Pink rose from Alexandra Manousakis' famous winery in Chania Prefecture, added an exclamation point to our first "Almyra experience" of Summer 2019.
I would like to thank all our pals at Almyra, Manos, Yiannis, and Michalis in particular, as well as the wonderful new addition Theodora. This year will be GREAT, I can tell.